Select from templates or create your own forms, display key forms on the dashboard to monitor activity.
How to get there
Log in to the SaferMe admin portal on the web app. Once signed in you will land on the dashboard screen.
The 'forms' tile on the dashboard will prompt you to configure it if not already done.

Click 'add form' on the forms tile. It will open up a screen with suggested forms to choose from, or you can create your own custom form.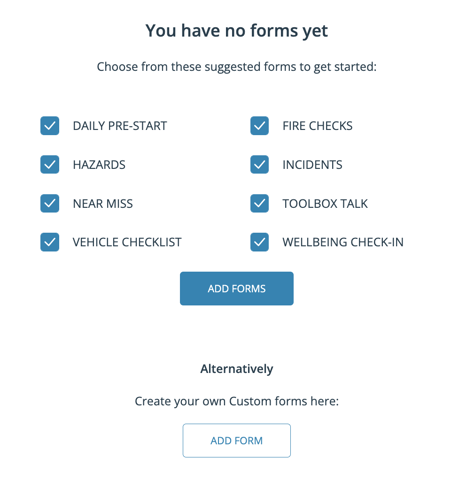 Creating a custom form
Click 'add form'
A pop up will appear - fill in a form name and description
Select a form type from the drop down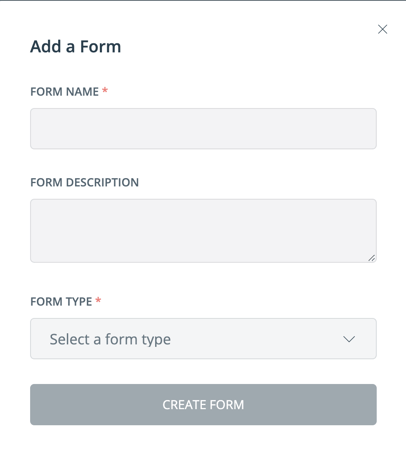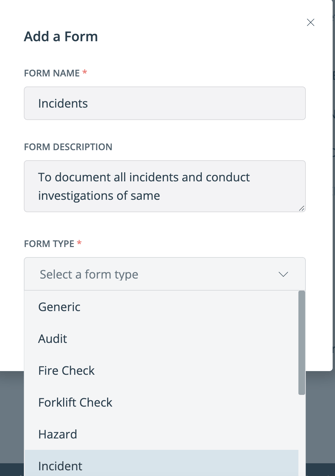 Click 'create form'
The SaferMe form builder will open
The form will already have six suggested widgets




Configure any widget by clicking on it or delete any widget by pressing the 'x' to the right of it
Drag any widget into the form by clicking it, holding down and moving it across to the form
Preview the form as it would look on a mobile device by selecting 'preview form'
Fields/Details/States

The 'fields' tab has all of the available widgets to build the form
The 'details' tab is the name, description etc of the form and settings available for the form such as 'attach all pdf copies of reports to email alerts'
The 'states' tab is how to configure the workflow of the reports such as 'new incident', 'in review' or 'resolved'
Each workflow state can be configured to settings such as 'alert admins' or 'assign to Mark'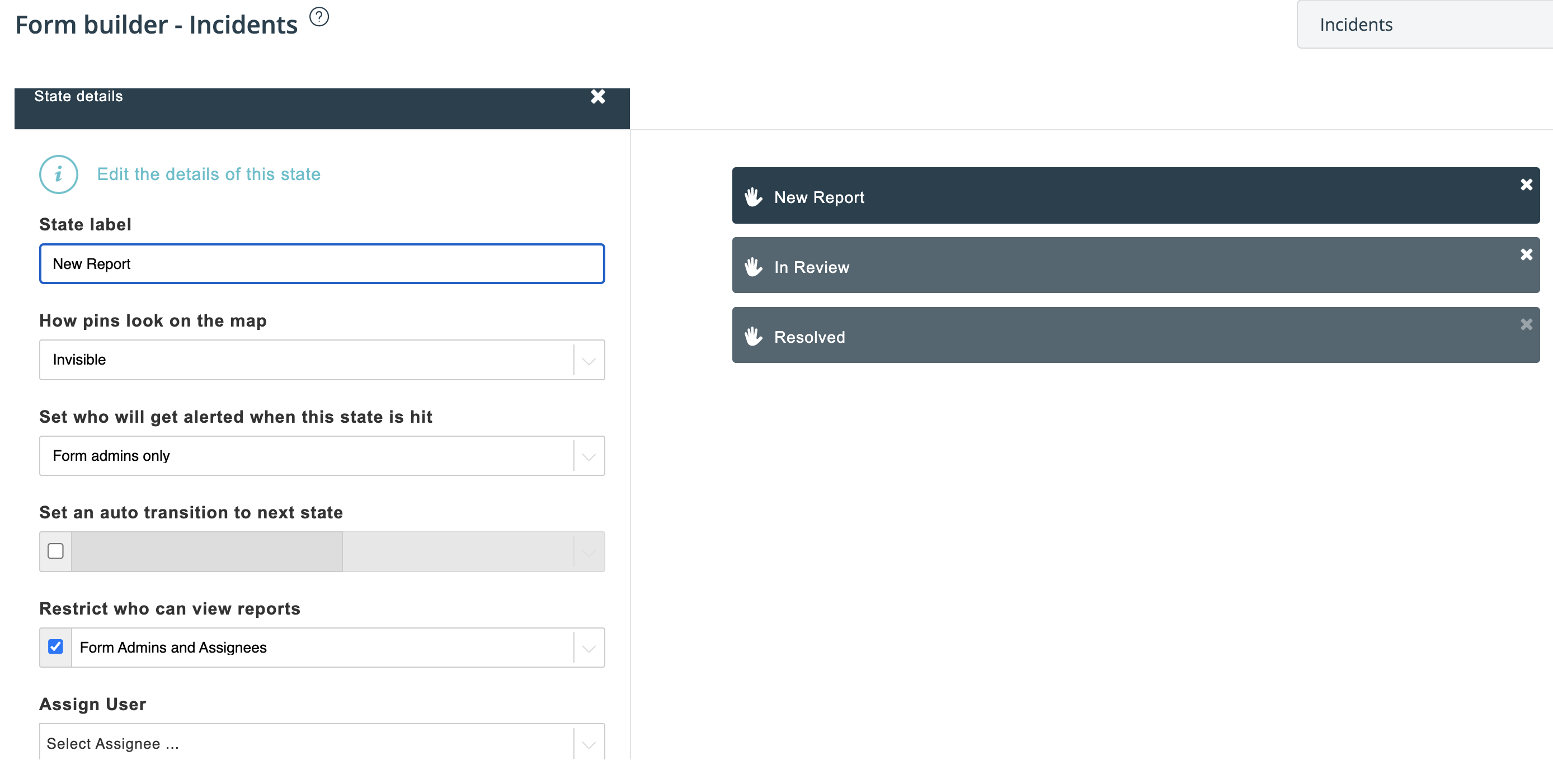 To try out how a form will look and feel to the end user, try making a report using the form as a test. Click the blue 'Add' button and select 'Report'.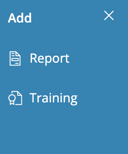 Once you have either selected forms or created them, they will then display in your 'Forms' area. Here you can navigate to reports, manage members for each form and edit forms.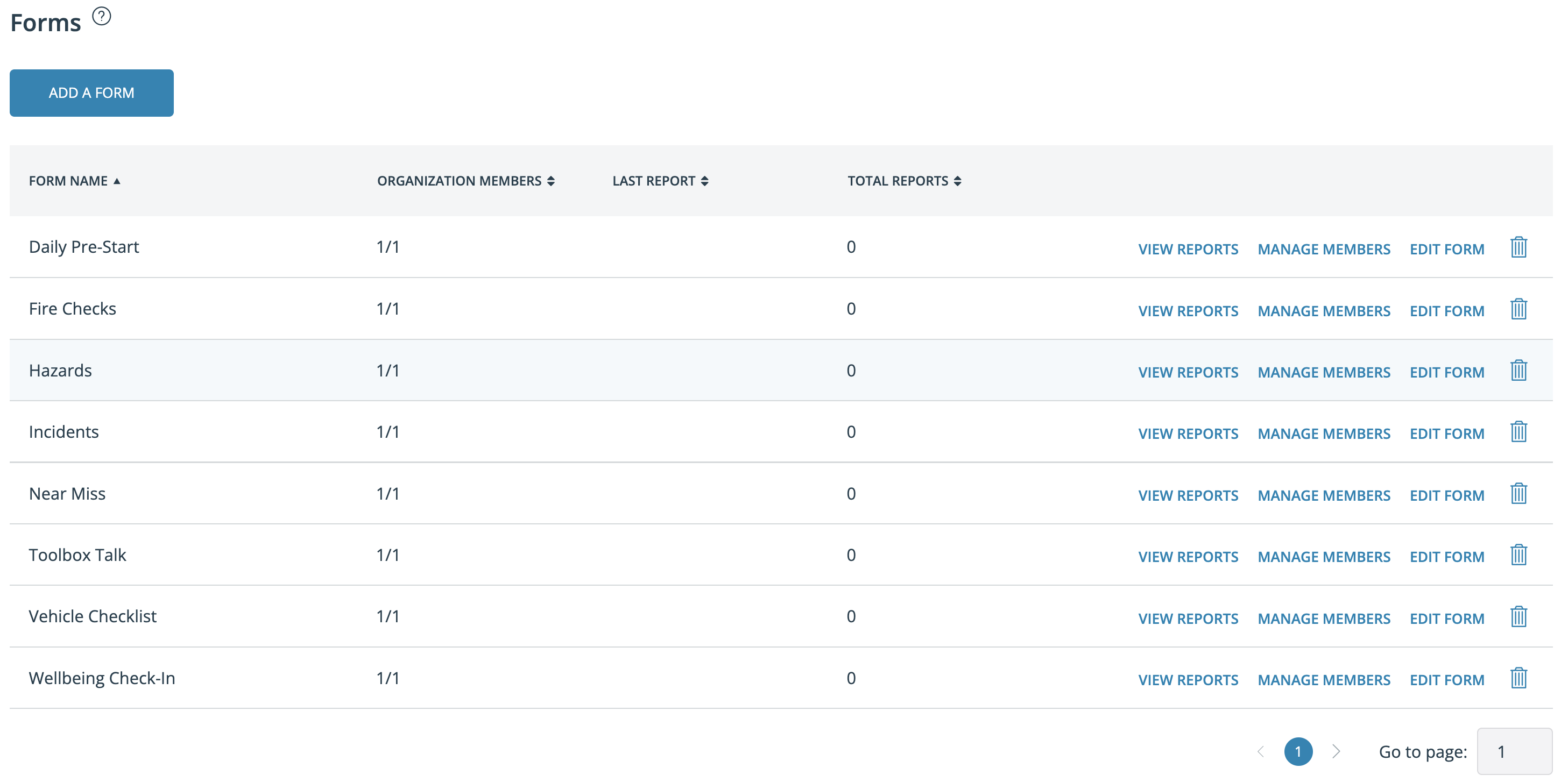 If you have any digital or paper based forms you need support to build in SaferMe, reach out to our stellar support team for advice and assistance - support@safer.me
Finish configuring the forms tile by selecting the 'configure' button on the top right of the dashboard screen.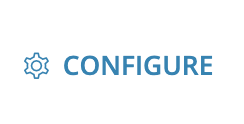 You can select up to three forms. The number of new and unresolved reports will display for each one. You can change which forms to display here anytime

Start creating reports to see these widgets populate with numbers. Want to know how to create a report? See our 'How do I create a report on the web app?' article.