This article covers how to create a task for a report through the SaferMe web app
This article relates to the SaferMe web app which is only accessible to Admins, Managers or the Owners of a SaferMe organisation.
Creating a task for a new health and safety report
A task can be attached to a report as a way to prompt another user from the organisation to take action. A task can be added while creating a new health and safety report or can be added to existing reports.
Adding a task
Once you have submitted your health and safety report click CREATE TASK
Select TASK TITLE and give your task a call to action.
Select TASK DESCRIPTION and enter a more detailed description of the desired action.
Select ASSIGN TO and choose a person to assign the task to.



You will only be able to assign tasks to those who access to see the report/form.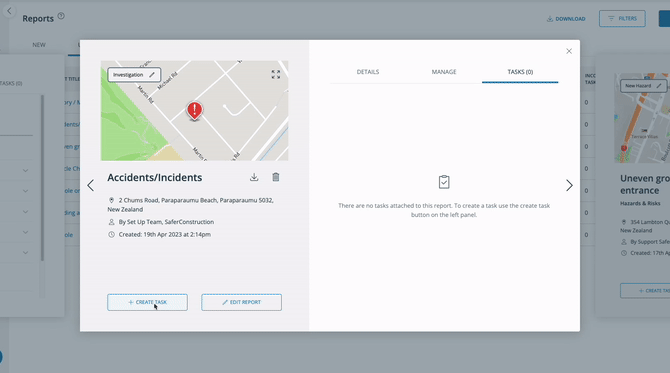 A task must have a title, description and assignee before it can be saved.
Creating a task for an existing health and safety report.
Adding a task to a report that has already been created can be done through the reports page.
Select FORM and choose REPORTS.
Select the report you wish to create a task for.
You will now be taken to an overview of the report. If you wish to edit the information within the report before you create a task, click EDIT REPORT.
Click CREATE A TASK and continue the process as it is described above in Creating a task for a new health and safety report.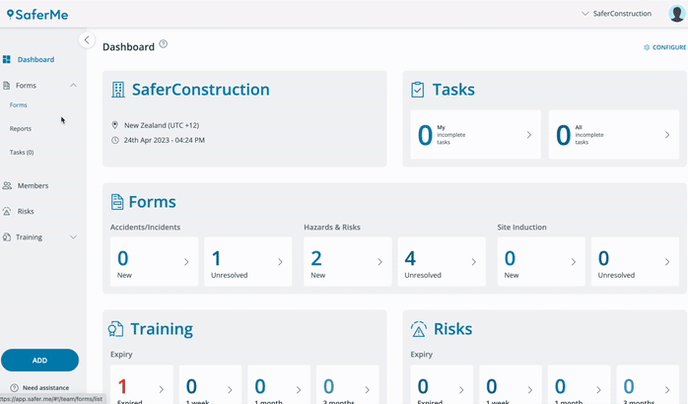 Once the task is saved, it will appear in the Tasks tab of the report to be marked complete.
The assignee will be immediately notified of the task, provided they have opted in to receive push and/or email notifications. The report will appear in their Tasks tab ready to be actioned.
As an Admin or Manager, you can see an overview of all incomplete tasks listed in the Tasks area of the Dashboard page.
Click here to get an Overview of the Admin Dashboard
If you have questions about this process, please reach out to our team at support@safer.me