Start making reports on the SaferMe mobile app by choosing the reports location and pressing the red + button
How to get there
In order to make reports on the SaferMe mobile app, a user must have access to forms and be signed in to the mobile app.
Making a report
Once signed in the home screen will appear which is the map view. There are two steps to making a report.
1 - Choosing a location for the report
Before making a report, the user must first choose a location for the report. By default the pin in the centre of the map screen will attempt to guess the devices location. This estimate is based on various data points such as strength of signal, location permissions for the SaferMe app on the device itself etc.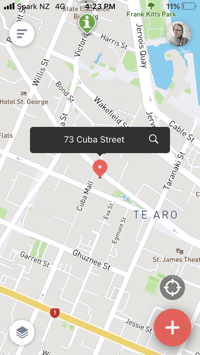 The red pin on the map can be moved around the screen to the desired location. Alternatively the address bar can be tapped and an address can be searched by keyword. A list of suggested locations will appear.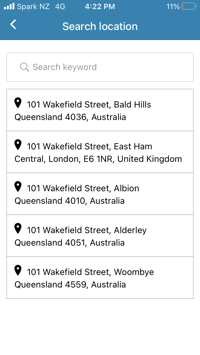 Once the pin is in the right place and the address is correct, the report can be created.
2 - Press the red + button
Select the red plus button on the bottom right of the map screen. This will display each available form which the user has access to and can make reports on.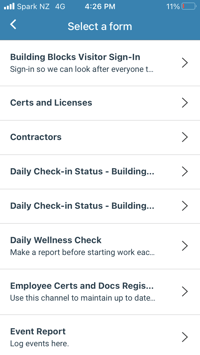 Select the form by tapping its name which will open a new one. Complete the form and click 'submit'.
If the report's location is far away from where the device's location currently is then a pop up may appear asking the user to verify the reports location is correct.
The user has the ability to move the report to where they are now or keep the location of the report to where the pin was placed back on the map screen.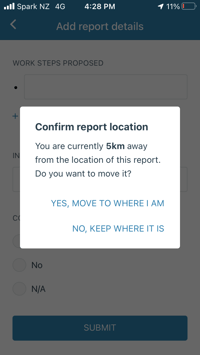 Offline Mode Reporting
If the user is submitting the report in offline mode or in patchy reception, the report will be stored on the device and won't send.
The report will only send once the device has achieved connectivity again and the SaferMe app is opened allowing for the report to send.
A user can verify if the report has been sent successfully by clicking their profile icon on the top right and checking their 'reports' list. If the report appears in this list it has successfully been uploaded.
For any further information about submitting reports please reach out to support@safer.me