Learn how to set a strong password, reset your password and unlock your account.
Password security improves the security of SaferMe and protects our users and database. This is part of a wider security programme which detects, prevents and responds to cyber threats.
Password Requirements:
A strong password is required in order to successfully sign up to SaferMe.
The signup form has:
Help text: "Use 8 or more characters with a mix of letters, numbers and symbols"
A password strength indicator. This changes progressively following a traffic light system. When the system recognises a satisfactory password, it will show "Strong" and will let users continue.
Icon to show or hide a password.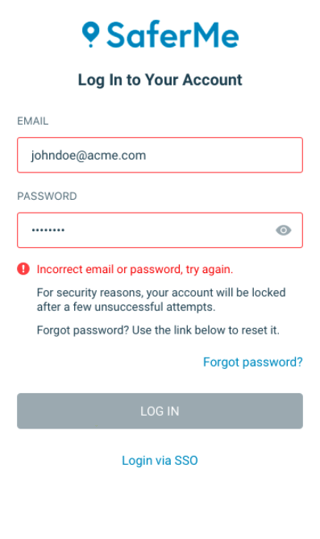 Tip: Password not strong enough? Try adding a symbol.
How to unlock your account:
When incorrect log in details are entered in multiple times, the account will lock. After the account locks due to too many failed attempts the user will be required to reset their password.
Go to SaferMe on a mobile or other device
Select 'Forgot password?'
Enter in your email address
Open the email in your inbox
Click the code in the email
This will open SaferMe and pre fill the code that was clicked in the email
Choose a new password

Tip: Select the eye icon to view the password you are entering.
Click 'reset password'
A success message will appear
The reset password button will become clickable only when a strong password has been achieved. A strong password should have 8 or more characters with a mix of letters, numbers and symbols.
Need further assistance reseting your password?
Please reach out to support@safer.me
Change your password on ios
Open the ios mobile app
Click 'profile' on the bottom right
Click the cog wheel on the top right
Select 'Password' from the menu
Enter in your current password
Enter in a new password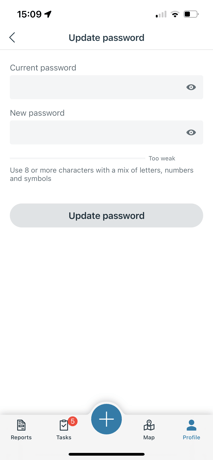 For any further password related questions please reach out to us at support@safer.me