This article discusses the benefits of adding a Fatigue Calculator to your organization.
Backed by Science
SaferMe has partnered with Professor Drew Dawson, Director of the Appleton Institute at Central Queensland University.
The Fatigue Calculator helps individuals recognise the likelihood of them making a fatigue-related error on the job. This add-on is based on decades of research, experience, and application within high risk industries like mining and oil + gas.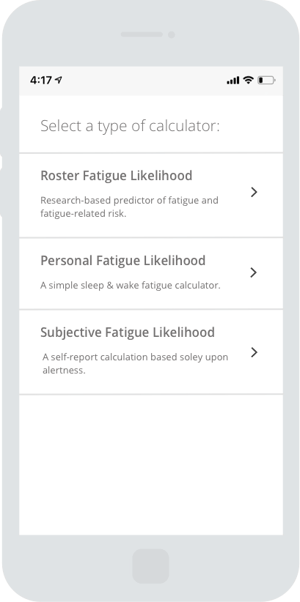 Roster Fatigue Likelihood
A research-based predictor of fatigue and fatigue-related risk. This can be used to plan rosters and assess team fatigue over time.
Personal Fatigue Likelihood
Provide your employees with a self-assessment tool on their fatigue status. Used to measure individual employee fatigue immediately and over the day.
Subject
A self-report calculation based solely upon alertness.
Analyse, Communicate, Support
Access team wide trend data, get alerts when people self assess, comment and support each other. Make better decisions in the field.

Key Features
Sleep / Wake
User's self assess in the field based on their sleep patterns. Managers are then alerted and can use report data to manage risk across the team.
Karolinska Scale
An additional subjective assessment step to cover-off the other causes of work-related fatigue your people may face.
Calculator
Daily monitoring of critical fatigue metrics across your entire team enables you to identify trends, training needs, and precisely manage busy periods to maximise productivity and minimise risk.
Fatigue Alerts
Administrators can opt into receiving alerts when workers submit fatigue assessments to support those at increased risk.
To request a trial of the Fatigue Calculator for your organization, please contact support@safer.me