In this guide, we will cover how to add members to SaferMe
How to get there
To access the Members screen a user needs to be a Manager of an organization and signed into SaferMe on desktop. Click the 'Admin' button on the top right of the toolbar in SaferMe and then select 'Members'.
Use the following steps to add members to an organization / adding to channels
Select Add Members at the top of the Members page
Type or paste in the email address(s) and click ADD MEMBER
This will send the member an email invitation to join the organization
After clicking ADD MEMBER, a prompt appears asking to add the member to channels that exist on the organization
Add the member to selected channels as either an operator or administrator
Note: A member will only receive an email invitation the first time they are added. If deleted and added again the member will not receive the email invitation again.
Note: An operator can make reports.
Note: An administrator has access to the 'Admin Panel' where they can manage data, members and channels.
Step 1: Add member(s)

Step 2: Add member(s) to Channels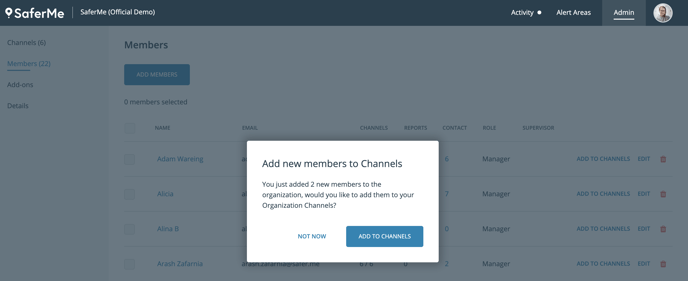 Step 3: Select which channels to add members to as either an operator or an administrator